The iPhone 7, iPhone 7 Plus, and iPhone 6s were the "three most popular smartphones" in the United States in the three month period ending November 2016, when users were purchasing early holiday gifts for friends and family members. According to new data collected by Kantar Worldpanel, the three Apple iPhones captured a total 31.3 percent of smartphone sales in the U.S., while Samsung accounted for 28.9 percent of smartphone sales during the three month period.



In the U.S., iOS grew 6.4 percent in the same three month period, rising to a 43.5 percent share of the market. Android dropped 5.1 percent, but still sits atop Apple with a 55.3 percent share of the market. As Kantar noted, the data marks the sixth consecutive decline for Android in the U.S.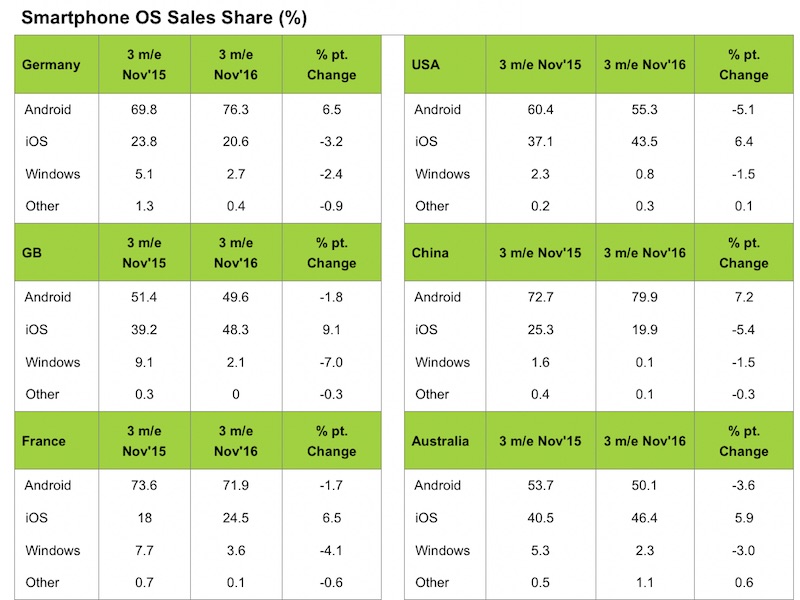 Kantar's data shows that iOS made gains across most regions around the world in the same September to November period, despite a few losses in Germany and China. Apple's mobile operating system saw the biggest year-over-year increase in Great Britain, where it jumped 9.1 percent to account for 48.3 percent of the smartphone market in the country. Both Android and iOS increased their presence across France, Germany, Italy, Spain, and Great Britain, "largely due to the decline of Windows," according to Kantar.


"In the EU5 countries, Android accounted for 72.4% of smartphone sales during this period, with iOS at 24.6%, a strong year-on-year uptick for both ecosystems as Windows' share declined to 2.8%.


For Android, this represented a 2.8 percentage point decline from the October period, while strong sales of iPhone 7 boosted iOS," explained Dominic Sunnebo, Business Unit Director for Kantar Worldpanel ComTech Europe. "The holiday period is always strong for Apple, but it remains to be seen if demand for the latest devices will level out in the first quarter of 2017."
Despite dropping 5.4 percent in China from the year-ago quarter, Kantar pointed out that iOS market share did in fact increase slightly (by 2.8 percent) from the previous three-month period thanks to the launch of the iPhone 7, which became the best-selling device in Urban China. "Local brands continued to dominate the market," according to Kantar analyst Tamsin Timpson, and Android accounts for a massive 79.9 percent of the smartphone market in the country in comparison to Apple's 19.9 percent presence.



Despite Apple's iOS growth in places like Australia, Japan, and even the U.S., recent reports surrounding the company's manufacturing partner Foxconn have pointed towards "lukewarm" demand for the iPhone 7 as a major cause for the assembler's first-ever profit decline. Apple reportedly shipped 207 million iPhones in 2016, down from 236 million in 2015, but many hope the company can turn around from its own revenue downturn with a profitable 2017 and a major redesign for the "iPhone 8."



Discuss this article in our forums